Help an old banger raise $20,000 to improve the lives
of those impacted by Multiple Sclerosis in New Zealand.
Multiple Sclerosis New Zealand and Hopeworks NZ are the masthead charities for the exciting Bangers to Bluff Rally 2022. The annual rally, organised by The Rotary Club of Half Moon Bay, challenges teams to drive a 'banger' from Auckland to Bluff, on roads less travelled via several iconic regions.
Our Team 'Keep Smyelin'
'Keep Smyelin' did such a great job in 2021 that they have decided to return! The team consists of our most dedicated volunteers, our President Neil Woodhams and National Executive Committee Members Jeff Silvester and Graham Walker. Our enthusiastic team are really looking forward to raising awareness of MS and the necessary supports those affected by the condition require to live well.
Our banger has transitioned from ugly duckling to beautiful swan thanks to the amazing car wrap job provided by ABC Photosigns. Why not grab the opportunity to have your logo on our beautiful banger by sponsoring us? Please view all of our fantastic sponsorship opportunities.
Our team would love to meet and greet as many people as possible along the way, come join us and together we can help New Zealanders thrive.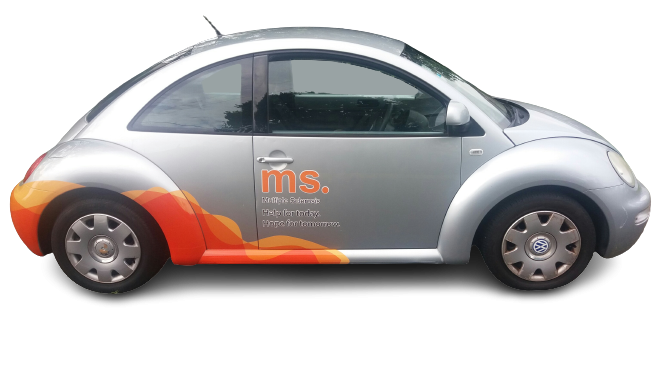 2021 Event
2021 was the first year we entered our own banger. Driven by team 'Keep Smyelin', the event raised $45,000 for MSNZ and $11,000 for our Regional MS Societies. The awareness, goodwill and advocacy that was achieved exceeded our expectations. We are so thankful to everyone that supported us in 2021 and hope you will cheer us on once more.
Exercise is Medicine
One of our team members, Graham, was diagnosed with Primary Progressive MS. In his early days of diagnosis, Graham had it impressed upon him the importance of exercise in being able to take control of his condition. "Use it or lose it" the Neurological Physiotherapists said. "So it really was a no-brainer, neurological condition and all, to pursue cycling as my exercise vehicle."
Therefore, every morning Graham has committed, once more, to head out the starting gates at the crack of dawn, ahead of the cars, to cycle as far as possible before getting caught. Who will get furthest? The 'banger' or the bike?
"My reasons for attempting this are 3 fold; to raise awareness of Multiple Sclerosis, to raise money for the combined Bangers to Bluff charities and, lastly, quite simply, because exercise is medicine".
Sponsor Graham per kilometre he rides
Graham is aiming to ride at least 20kms each day, over the 12 days between Auckland and Bluff (weather and terrain permitting). Not bad for someone with Progressive MS!

Why not pledge a certain amount for every kilometre he rides? If you pledge $1 per kilometre and he rides 240kms your donation pledge would be $240.

You can follow Graham's progress with regular updates on our Facebook page or on this website. On completion of the rally, we will email you the total kilometres Graham has ridden and our bank account details where you can deposit your donation.

Email your pledge today to info@msnz.org.nz to show Graham your support. Your pledge will be appreciated within the 'Current Pledges' area.
How Will Your Donations Help?
All funds raised through Bangers to Bluff will help the charities The Rotary Club of Half Moon Bay supports, including Multiple Sclerosis NZ, Hopeworks NZ, and Regional MS Societies the rally meets on the way.
Funds donated to Multiple Sclerosis NZ will help us to achieve our vision of a world without Multiple Sclerosis.
Multiple Sclerosis NZ:
supports Kiwis affected by Multiple Sclerosis by providing national leadership in advocacy, awareness, information and education;
helps builds capacity for our 18 regional member organisations by providing nationally consistent, relevant, and evidence-based resources; and
work to break down barriers to treatment and care for people living with MS.
Your support will assist in driving our Advocacy Programme, currently focused on:
Advocating for increased resourcing for neurological services to improve access to diagnosis, treatment and on-going care.
Improving the understanding of the costs of MS to the NZ economy, those diagnosed, and their families.
Funding for treatments in early stages of MS in line with McDonald Criteria 2017.
Funding for treatments which have shown benefits for

Secondary Progressive MS (

SPMS) and

Primary Progressive MS (

PPMS).
Funded and legal access to medicinal cannabis for people with MS.
Ensuring Autologous Haematopoietic Stem Cell Transplant (AHSCT) is available and funded in NZ for those who would benefit.
Pushing for an Independent review of PHARMAC and increased PHARMAC budget to fund life-improving and life-saving medicines.
Calling for improvements in access to both relief care and long-term residential care for under 65's with MS.
Working with the Carers Alliance to improve funding and support for NZ Carers.
Doing all of this, and more, takes a lot of resources. So please, join us today by supporting our banger in the Bangers to Bluff Rally 2022, to raise vital funds and awareness to support those impacted by Multiple Sclerosis in your community.
THANK YOU
We would like to express our sincere gratitude to The Rotary Club of Half Moon Bay for giving us the opportunity to be one of the masthead charities selected for this event and to you for joining us to make a difference, supporting us on our journey.
EVENT POSTPONEMENT
Unfortunately, the 2022 Bangers to Bluff event, scheduled to take place from the 29th March – 9th April, was postponed due to the Covid pandemic.
The team at MSNZ greatly appreciates the time and energy that the Bangers to Bluff rally organisers put into the 2022 event and were equally disappointed by this postponement.
We are proud to be one of the masthead charities selected to receive fundraising support from this event organised by the Rotary Club of Half Moon Bay. Our team 'Keep Smyelin' and our banger are very much looking forward to next year's event, we are sure it will be even more fun and better than ever!
The 2023 rally departs Auckland on the 21st March and arrives in Bluff on the 2nd April. Travelling roads less travelled, approximately 18 teams will compete for points and prizes, by participating in challenges and competitions.
At the end of the rally, the 'bangers' will be auctioned. Proceeds will be donated to charities the Rotary Club of Half Moon Bay supports, including Multiple Sclerosis NZ, Hopeworks NZ and Regional MS Societies the rally meets en-route.

Please Donate